Diploma course in teacher Training
In the Context of rapid Socio-economic, the present education system is not adequate to meet the growing demands of the diverdifying economy. It is therefore fekt that there is much need for growing children to have better systematic education by properly trained teachers. Thus, the Teacher Training should not be seen merely in terms of creating positive attitude towards work and general increase in the giving a full package of Competence, required for getting wages and self emloyment to meet the man-power needs of various sectors.
THE MAIN OBJECTIVES OF EDUCATION ARE
1. Enhancing individual employability.
2. To reduse mis-match between the demand and supply of skilled man power.
3. To provide an alternative for those pursuing higher education without particularaims or purposes.
All India Early Childhood Care and Education, an Educational Organisation, started Nursery Teacher's Training Course all over India, with the help & co-operation of educational experts with a view to train unemployed educated girls, particularly the girls of Scheduled Caste, Scheduled Tribes and Backward class, so that they may impart education, based on modern lines to Pre-school children, with a stress on moral, intellectual, Physical & social personality, as it was found, that there was no training for teachers in India for Pre-school going children education.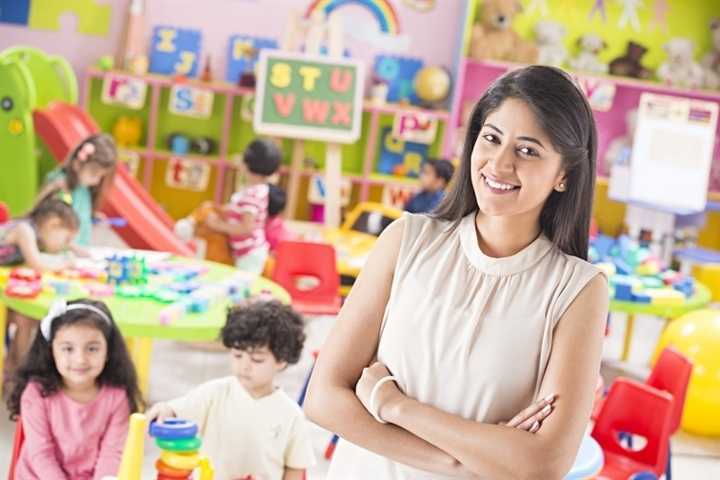 The organisation takes guidance from NCERT, New Delhi & Social Welfare Board (Govt. Of India). Therefore, it is in line with research work at N.C.E.R.T. These two are the only genuine bodies for guidance and affiliation. At present various Study Centre are running in different State of India under the able guidance of N.C.E.R.T. Educational experts. As a Non-Governmental Organisation (NGO), AIECCE is trying to make successful the vocational training programme of Social Welfare Board, Govt. of India, by imparting Nursery Teacher Training to unemployed educated women.
Teacher's Vocational Training is held, as per guidance of N.C.E.R.T., New Delhi, so that the students, when trained, get better jobs. Our project also aims to give elementary education to every mother & sister all over India, in order to train them how to trear children Psychologically and how to inspire & motivate them so that they may develop interest in academic field, there by improving their potential for all round development of their personality.
The institute imparts training to selected pupil teachers, whom it finds devoted and sincere to the cause of education. It is a pleasure that various Convent, Nursery and Public Schools demand for our trainee students in advance; and our students have been appointed in various schools on good salary, It is because, our object is to make students expert in child education/pre-primary school level & help unemployed educated girls in becoming self dependent/reputed teachers in Nursery, Convent & Public schools.
In nut shell, we can say that we try make our students as perfect teachers to guide pre school children and prepare women to treat them psychologically.
We take pleasure to introduce ourselves as one of the poineer organization for imparting N.T.T. to women in various states for nearly a decade. Thousands of Students are being trained through practical & Theoretical knowledge, every year, out of which about 80% of the students have already got the job in Nursery schools or in Central School for teaching. In these modern times, women have got in important and significant role in nation building. Keeping this factor in view, we are making all our efforts to make women independent, which is also a basic need of the day. Indira Gandhi School of Education is the first ISO 9001:2008 Certified organization to introduce the Nursery Teachers Training, among all the system available in the Country. The Society has developed its teacher's training programe for national application for the progress of the women and children.
Location
Behala:
576/A/17 Diamond Harbour Road, (opposite Ashoka Cinema), Kolkata 700034, +91 9836289033
Netaji Nagar:
5/30A, Netaji Nagar, Kolkata 70040, +91 9836289033
Website – afterschools.co.in
How useful was this post?
Click on a star to rate it!
Average rating / 5. Vote count:
We are sorry that this post was not useful for you!
Let us improve this post!
Thanks for your feedback!